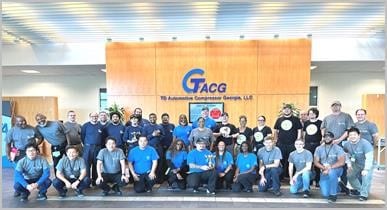 The week of September 19th saw a flurry of activities in the lobby and conference rooms at TACG, as five teams presented their Quality Control Circle (QCC) in TACG Hall before a panel of judges and spectators. The importance of our QCC Convention cannot be overstated. Working both directly and indirectly with our production operations, our associates are experts on the subject matter within their departments and over their work processes.
All associates are encouraged to participate in the convention, and practice taking a collaborative approach to problem solving. The purpose is to identify problems through a three-step process.
• 1- Identify the current situation.
• 2 -Envision an ideal situation, which thereby identifies the "gap" that exists between the current and ideal situation.
• 3- Take the opportunity to work together with others to achieve a better outcome.
At TACG, quality isn't just about what we do as a set of actions or behaviors. It is an integral strand of our company DNA, woven into who we are.
We work hard to ensure that we are always capable of supplying our customers with well-manufactured compressors that meet or exceed acceptable standards. We will continue to train associates to adhere to each step of the process and strive toward creating the best products.
TACG is dedicated to making quality an inseparable— inextricable—component of who we are so that everything we do is imprinted with high attention to detail. With associates who care about their work and the correct training processes in place to ensure the proper skills and techniques, we can guarantee that only compressors meeting the highest standards of quality make it to our customers. When we combine the talent and the tools along with the human tenacity to embody quality excellence, we are an unstoppable force.
Congratulations to our top three winning teams!
1st Place- The Chosen Ones –Assembly Team – Theme Communication Improvement
2nd Place- SLS Squad – Swash/Lug/Shaft Team – Theme Digital Training Improvement
3rd Place- Cast Masters – Die Cast Team – Theme New Hire Training Improvement